A historical restoration of St. Michael's Cathedral in downtown Toronto.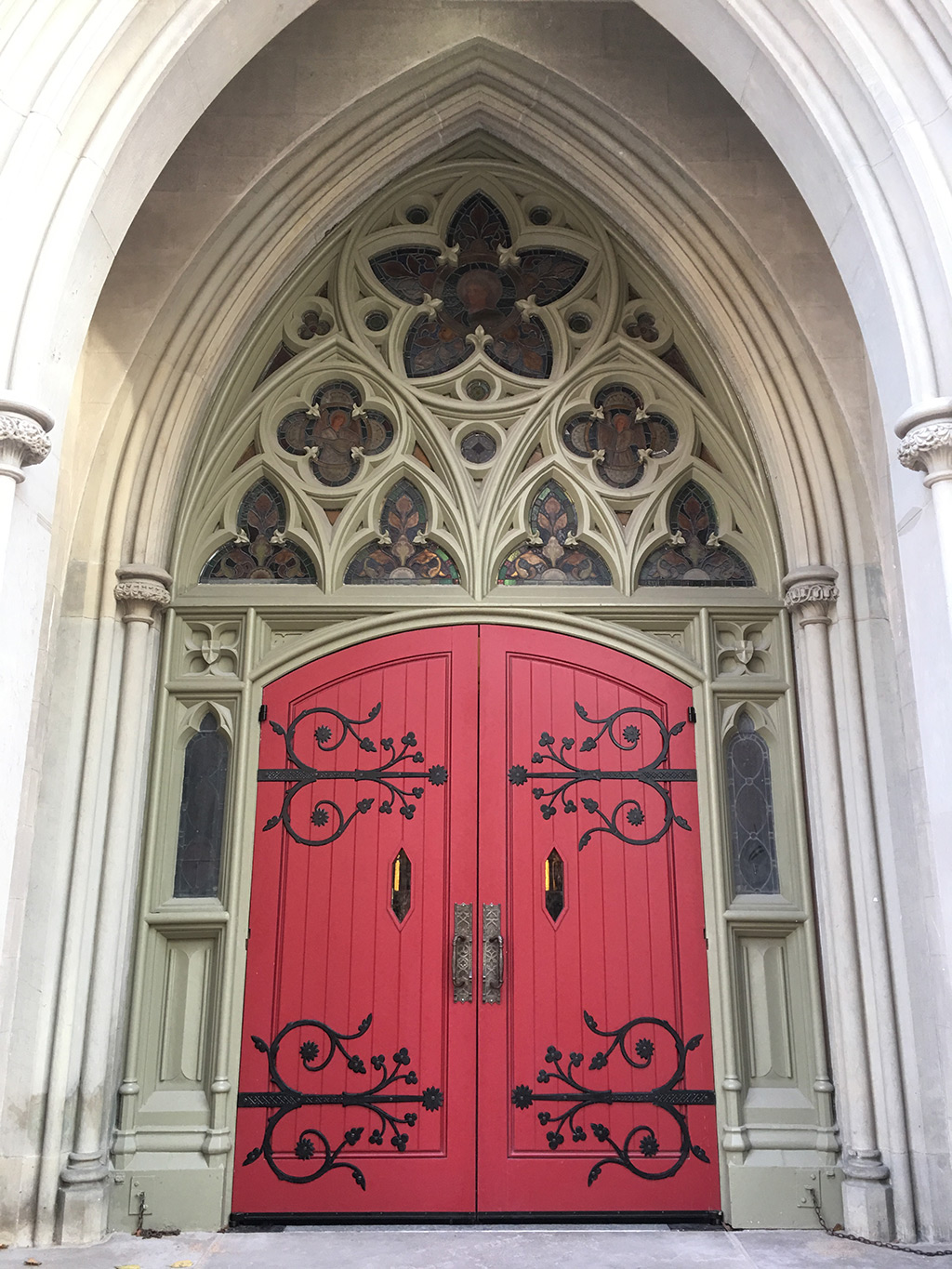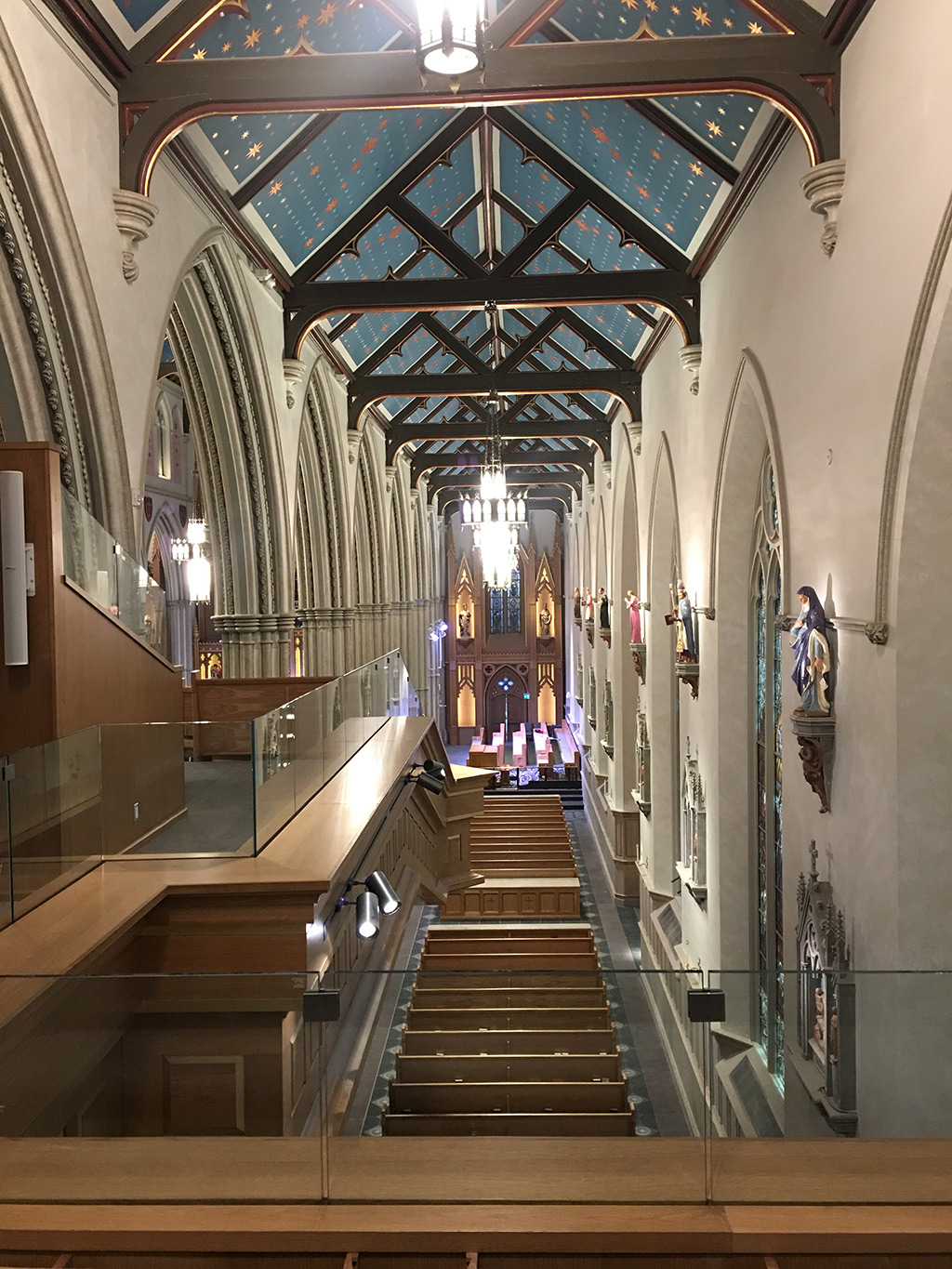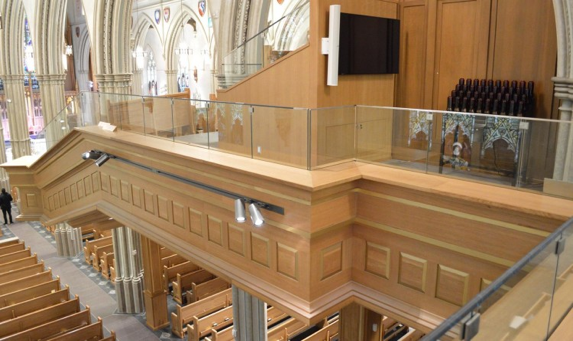 The project consisted of eight distinct phases:
New Crypt Chapel:  Created from the existing crawl space beneath the main floor of the Cathedral.
Narthex Rehabilitation: Including insertion of new stairs and a new elevator from the crypt level to the new balcony.
Balcony: Demolition of existing balcony which was condemned by the building department due to structural issues. This included removal of the existing Warren Organ. Construction of new expanded balcony with new Casavant organ.
Nave: New Decorative painting on ceiling, replacement of existing structural columns which were discovered to be failing. New slate floor, new lighting and sound system and new pews.
Transepts: New bronze exit doors and restoration of existing rose windows which had been boarded up.
Sanctuary: New marble floors, new altar and reredos screen.  New vestry area behind sanctuary.
St Johns Chapel and new Atrium: Included new basement level containing new Electrical vault and centralized mechanical plant servicing all buildings on the cathedral property.
Exterior Masonry and roofing replacement and restoration: Included many stone carved elements, decorative bronze finials and restoration of existing windows.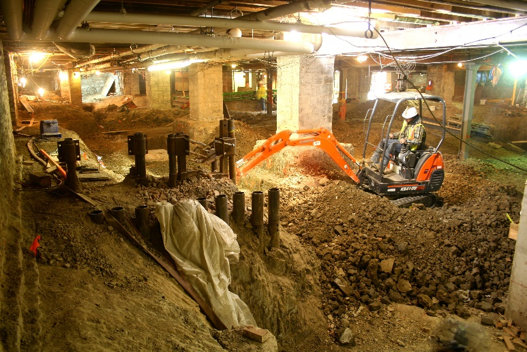 First steps in creating the crypt chapel where only a crawl space existed.
There were many challenges as the project slowly revealed existing hidden conditions and what the building required.  In a collaborative approach project design, timelines, construction phasing and budget were discussed on a weekly basis with the management team. Teamwork and innovative solutions led to many value engineering opportunities that saved the Arch Diocese of Toronto time and money.
Marc provided overall strategic oversight and quality assurance and lead the development of a unique vision.
Marc's ability to effectively articulate project success factors and efficiently mediate risk management resolution resulted in the Archdiocese awarding further phases of work to the company.
The scope of work was extensive and included complete masonry and roof restoration and replacements along with the creation of a new Crypt Chapel, where only a crawl space existed previously, introduction of new HVAC for the Cathedral, a new balcony, new pipe organ, new pews, stained glass windows, painting schemes for walls and ceilings new slate flooring and complete renovation and restoration of the sanctuary area including new marble alter and lecterns.
The Cathedral remained open throughout the construction process and was closed only once due to the discovery of failing roof support columns within the Nave. The Cathedral was closed while all existing unit masonry columns were replaced with new concrete columns
Project challenges included:
Complicated historical restorations
Renovations and new construction executed while building operations continued
Creating a new basement where only a crawl space existed
Complex structural design for underpinning of existing foundations, benching of perimeter foundation walls and inserting new structure for support of new balcony and installation of new elevator.
Respecting existing crypt interments and coordination with Archaeologists during the construction process.
Project Lead
Marc Ferguson
Builder
Buttcon Limited
Client Name
Catholic Arch Diocese of Toronto
Contract Type
Construction Management
Contract Value
$120,000,000
Location
Toronto, ON